Location: St. Louis. Subject: Architecture, flowers.
I was in St. Louis on business for Savvi Formalwear, and opted to hang around a couple of extra days to shoot the city. I don't know if it's just because I'm from California, but the weather was miserable. It was between 90-95 degrees with humidity north of 60%; I felt like I was drowning in hot steam.
I had planned on spending considerable time walking through and shooting Forest Park, St. Louis's larger (but less interesting) answer to New York's central park. Alas, the weather prevented me from spending too much time walking. Cabs worked but were pricey, and if I did try to walk around the sky would inevitably open up on me and my camera. The architecture in the city is amazing, and you can tell the city has a soul, but it was not one of my better trips.
Thursday afternoon found me at the New Cathedral, which is crazy huge and about 100 years old. I didn't really get any good pictures of the exterior, so here's a mediocre one for you.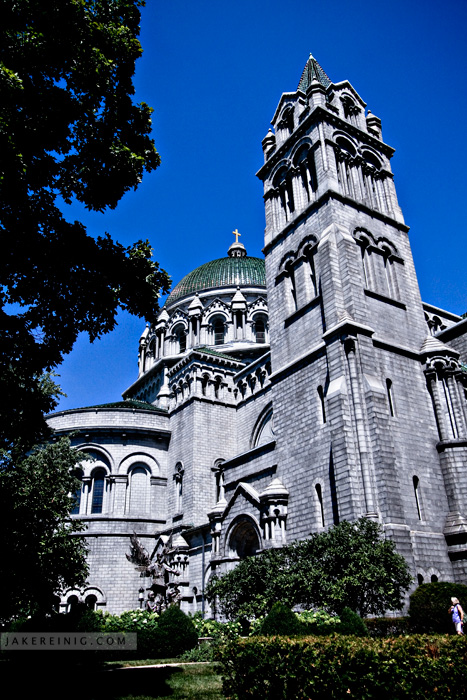 This sculpture was pretty neat. Various parts of it, most notably the angel's wings as wind chimes, made sound when the wind blew.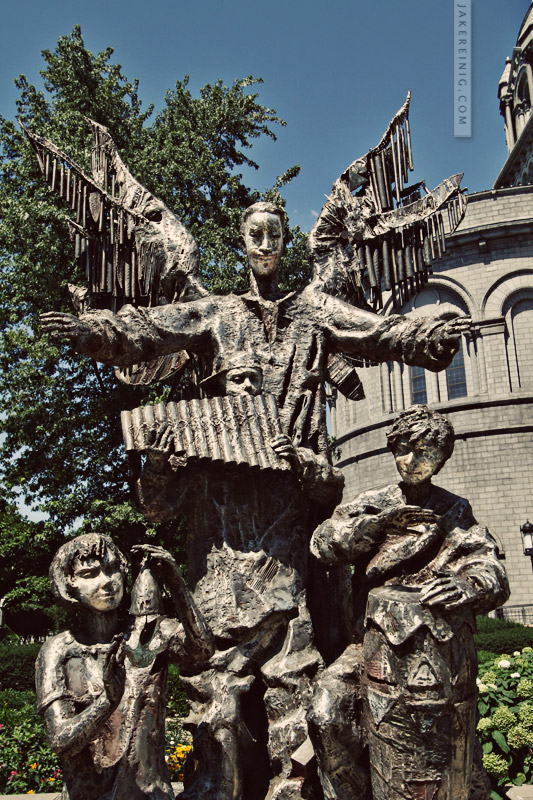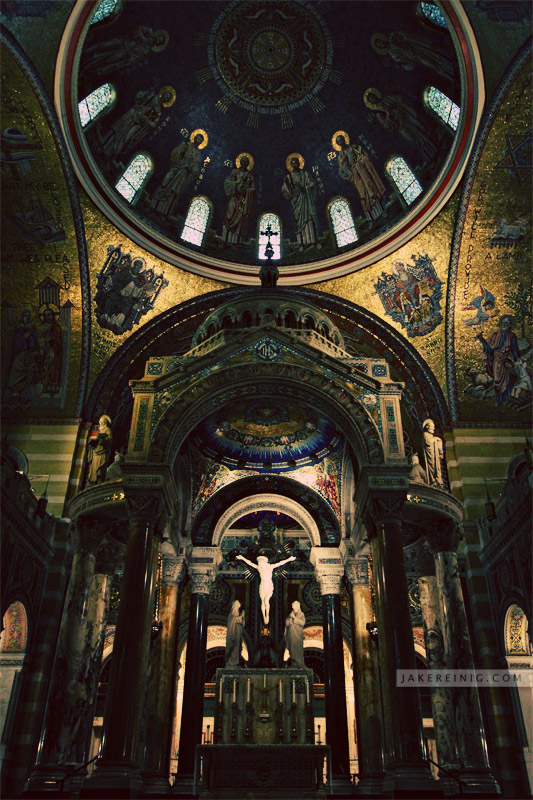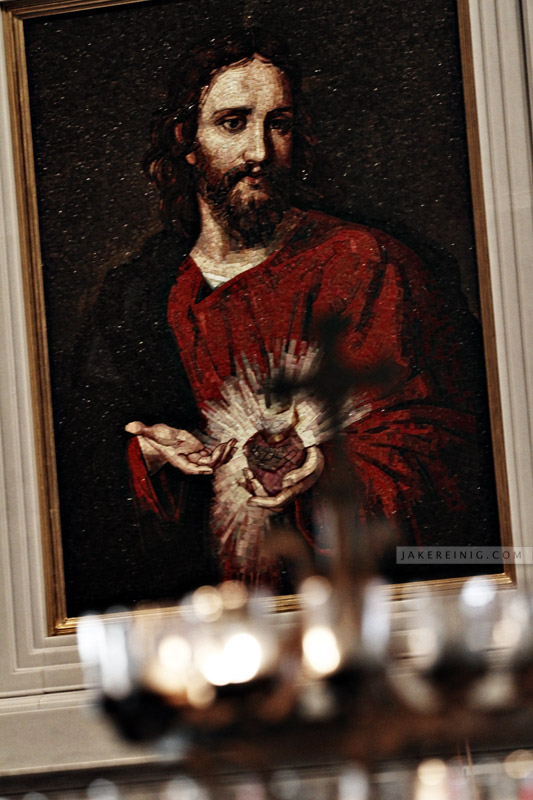 After the cathedral, Greg, Lauren and I headed over to the arch before their flight home. My afternoon photos of the arch are fairly boring, so I decided to go back near sunset (more on that in a moment). I spent some time in Forest Park before heading back.
Although the arch is interesting from a design perspective, it's a fairly mundane visit. In a nutshell, the arch is very tall (600+ feet) and very arch-like. Basically, you stand in one place and look up at the arch, and that's the extent of your trip to it. It has nice green space around it, including some wooded areas, so it's cool to hang out at if you want to relax or picnic.
You can go in a non-air conditioned elevator to the top of the non-air conditioned arch, but I opted not to.
In any event, I arrived near sunset hoping to get more interesting photos, but also to try and avoid the heat. The heat really never went away, but the photos did get better. This photo is of the old courthouse, directly across the street from the arch. Built in 1826, the courthouse is not a large structure, but it's a neat old structure set down in the middle of much more modern infrastructure.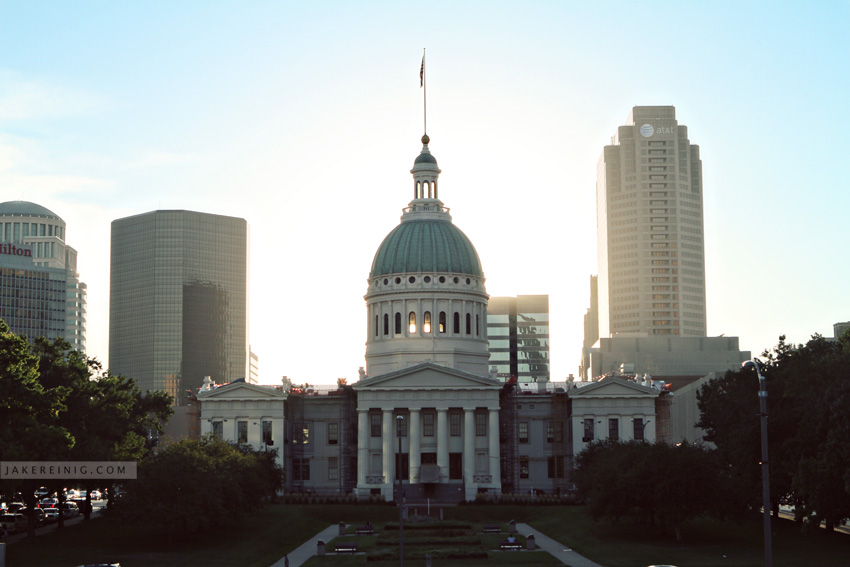 The first shot at the very top of this page was one of my favorite long shots of the arch. In addition to the standard pictures, I took some time to work on abstracts of the exterior skin, one of which is below. I had hoped to cross the river and do some night time long shots, but it didn't work out.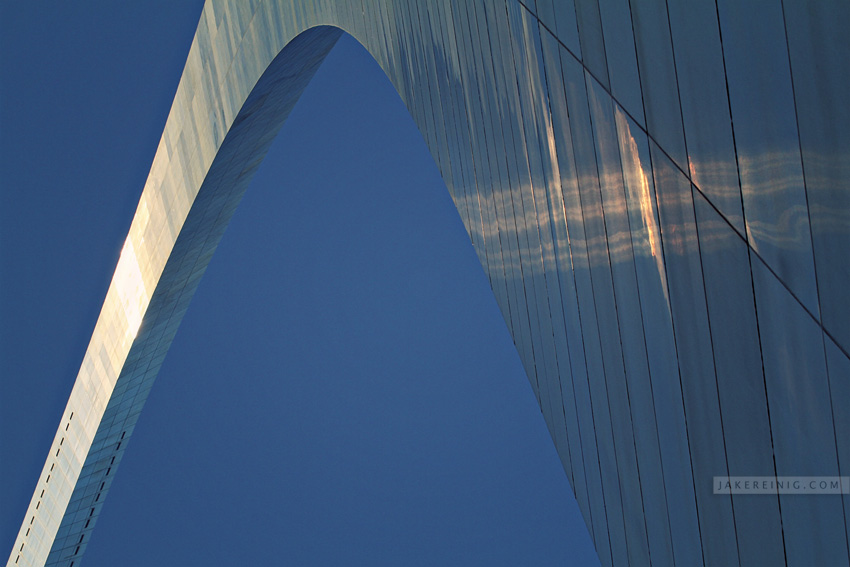 I had arranged for a helicopter flight, and after a while walking around the arch grounds, hopped in to do some altitude photos. With both the pilot and arch on my right I missed the money shot, but still got some photos I like a lot.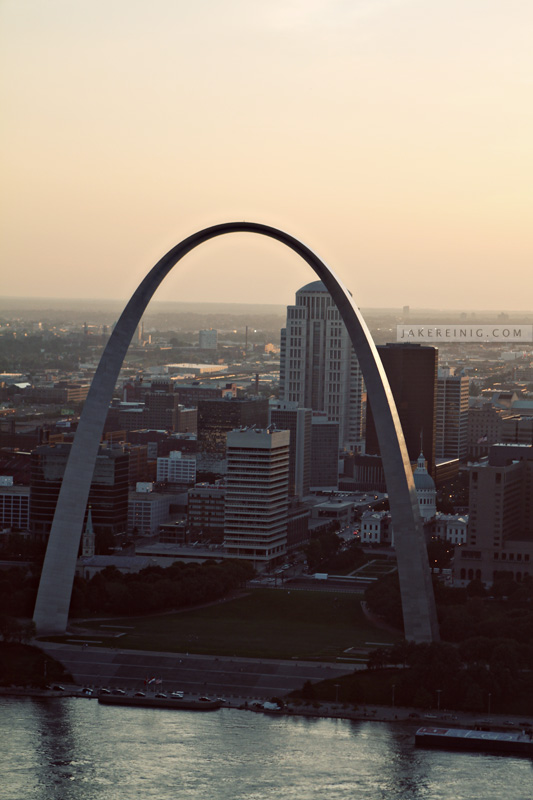 Banking over the river, interior and exterior.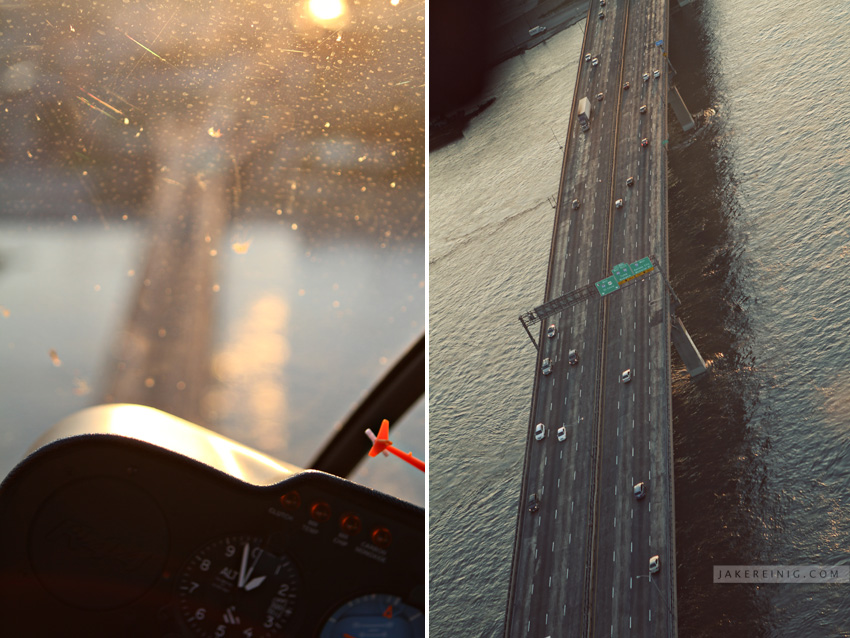 Afterwards I headed north along the Mississippi in search of food. The river was angry and very high, and had risen enough to cover the lower pedestrian area as well as a big portion of the elevated street. With so much water movement, this poor chap never stood a chance.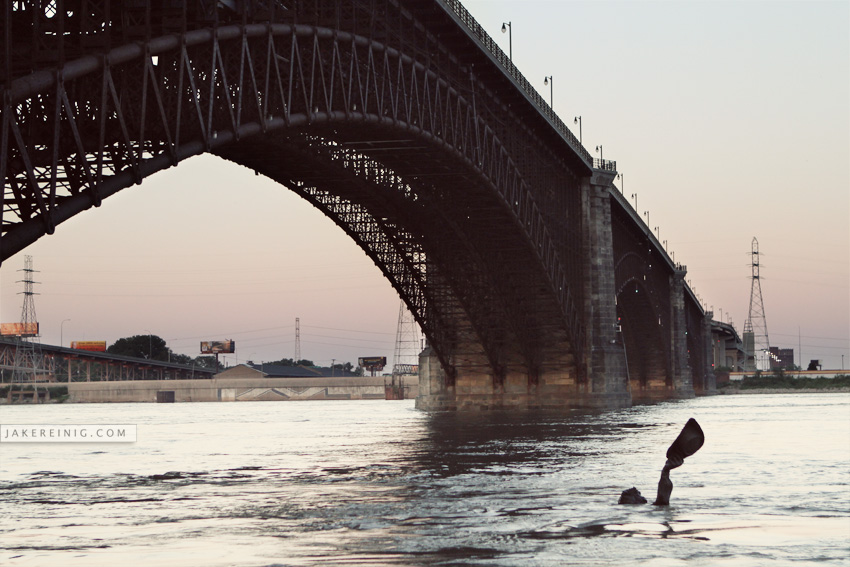 On Friday I headed back to Forest Park, starting at the art museum. This shot is of the Grand Basin, directly north of the museum. Built for the 1904 World's Fair, the Grand Basin is large and impressive, but sort of boring. The highlight of my trip around it was watching a family on two pedal boats delicately trying to transfer passengers. I had my long lens on in case someone took a spill, but they were more nimble than expected.
Here's a shot from a spot on the water, shooting towards the art museum. The museum was nice, but compared to offerings in other large cities it was fairly small. A real plus for it is that it's free, making it very accessible to groups that might not otherwise go.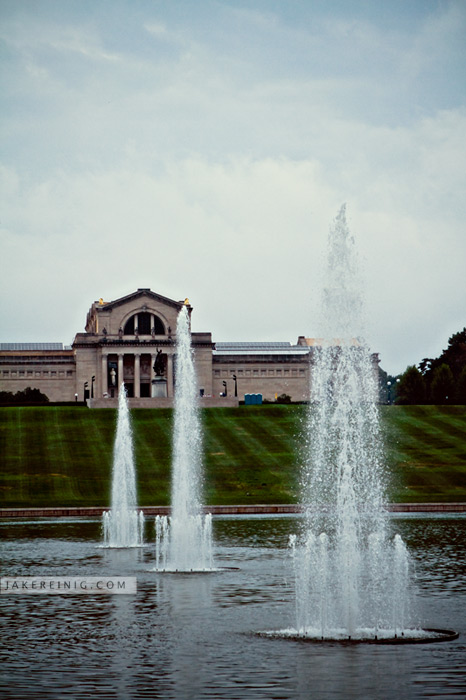 The Apotheosis of St. Louis himself, riding triumphantly into battle against the Nazis at Waterloo…or something.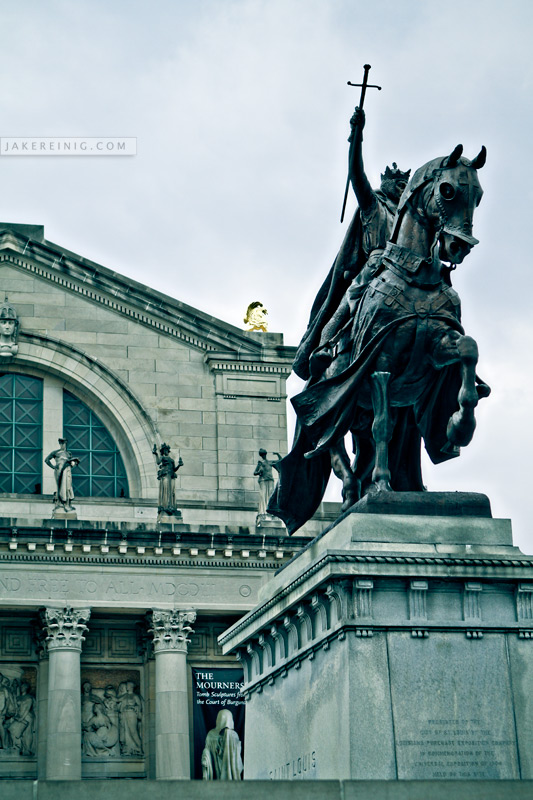 After the museum I cabbed to the Jewel Box, which turned out to be quite pretty. I spent my time walking the grounds taking in the beautiful ponds until it started raining. I headed up to the building to go inside and do indoor photos until it stopped raining, only to discover that I visited it on the one random Friday afternoon when it was closed for a private party. Hooray.
After a long, wet walk to a golf course, I cabbed it back to the hotel, grabbed my stuff, and headed to the airport much earlier than originally planned. With the early arrival and a very delayed plane, I spent far too long in the St. Louis airport (which, interestingly enough, has rocking chairs in the gate areas!). At least I got to fly home first class, so that was nice.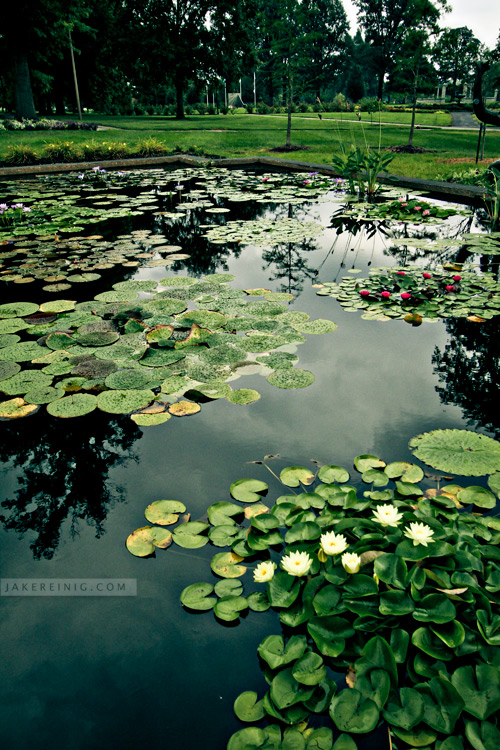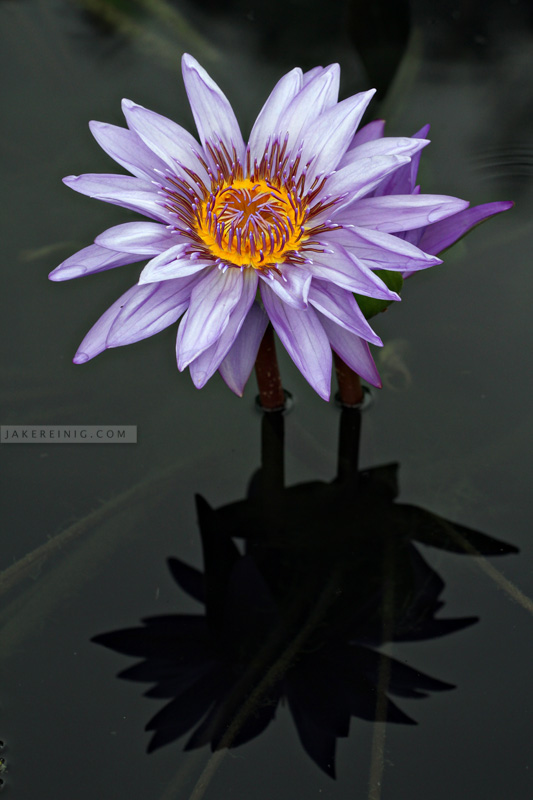 The ponds around the Jewel Box were full of frogs. I desperately tried to get a photo of one on a lillypad or directly under a flower, but they were too smart for me. Just look at this guy's smug expression. Jerk.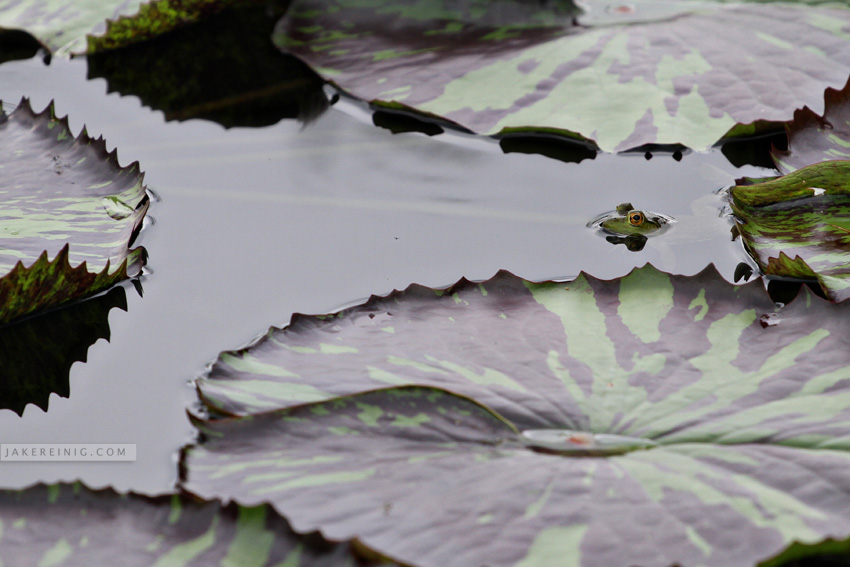 I shot rain drops for a little while, but packed it up before too long.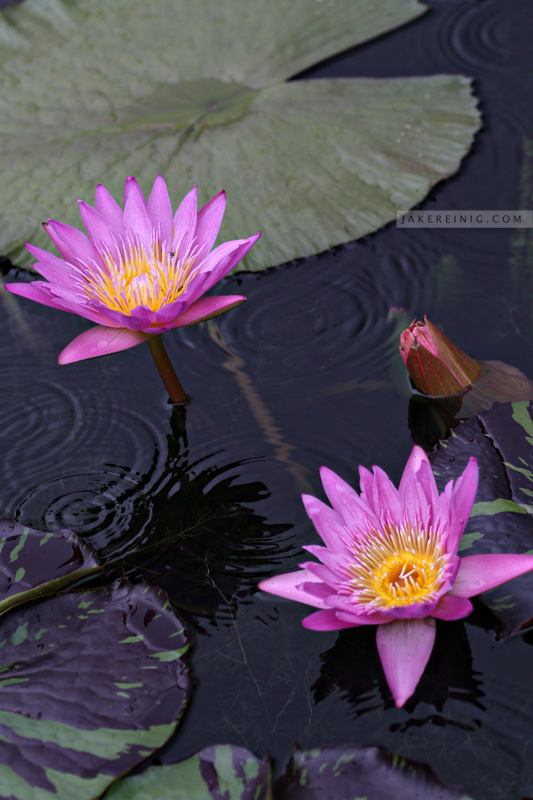 I'm off to to Scranton and Philadelphia in two weeks, with–hopefully–a stop in the ruined city of Centralia, home to a 50-year-old mine fire still burning beneath the town to this day. Hopefully that will be a more productive trip.