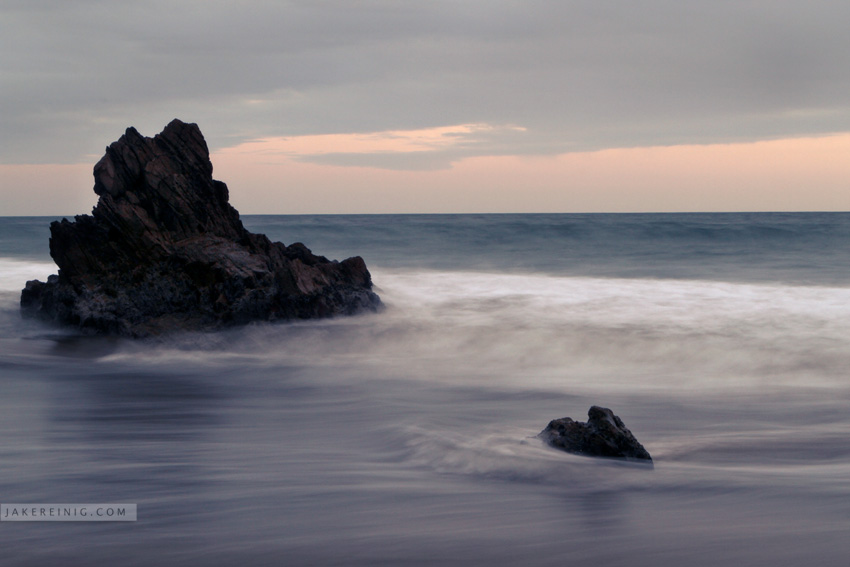 The text below is adapted from something I wrote last Thursday. The photos themselves are from two different days at Corona Del Mar: the first is from a session the day my friend died, while the second was done in a "make up" session this evening.
————————————————————–
My long time friend, Bobby Villanueva, passed away today, leaving behind a wife and two young daughters. In recent years Bobby had taken an interest in photography, and we spent a number of long conversations discussing lenses, cameras, and techniques. Like photography did for me, it opened up a new way of looking at life for him.
The quest to become an artist is not for everyone. A lot of people are content to take a simple photo, file it away, and call it a day. They've captured the moment, and now it's on to the next photo. For those that paint, draw, sculpt, or photograph, I think there's a sense that you could potentially create one image or piece in your lifetime that's so perfect, it wouldn't matter if you ever made another.
The issue though, is that you know you'll never get there because real life is too beautiful, and memories too ephemeral to be corralled by a human's coarse hands. It's like trying to grasp at smoke. We critique ourselves, think about what we could do better, and go buy more paint, pencils, or film. What we're trying to accomplish is impossible, but the pursuit is an extension of ourselves, and so we continue.
——————–
In a conversation with my friend Susan today, I explained why I don't shoot a particular subject very often: "It feels too much like work."
I was not being very productive at the office this afternoon, and decided that I needed to be somewhere else. My conversation with Susan in mind, I headed to the beach. The ocean has always calmed me, so it seemed like the right place to be. I photographed it for a while, failing miserably to capture everything I saw and felt at that moment. This was not work though, to be sure.
——————–
A few months back Bobby asked if I would donate some of my photos to a charity event he was doing for the Juvenile Diabetes Research Foundation. As with photography, he felt passionately about helping this organization and his daughter, who suffers from the disease. I've always felt like my photos just missed the mark, but for someone else to think them good enough to auction meant a lot to me. My passion was able to assist in his passion.
I felt bad for Bobby's family, for his friends, for myself: all people who lost something in his passing. I thought about Bobby trying to create his own art, to capture the love he felt for his daughters. Passion to passion. How do you do it though? How do you possibly capture the magic of life and love with any real success?
The waves swept in and the water ran out, and I understood that you can't. Life is in the chaos, in the brush strokes. The manifestation of love is the chase, the yearning to understand the world and the people around us. We'll never create that single, unifying piece, because life is too big and us too small.
I tripped my shutter and froze the earth for an imperfect moment, trying to squeeze my emotions into some container that I could hold onto. Alas, it wasn't meant to be. I trudged up the beach cold and sad, knowing my memories will never do him justice.
And so, I hope we all have something in life that we can feel passionate about, something that doesn't "feel like work." More importanly though, I hope everyone has someone else to hold onto; someone to make each of these fleeting moments as permanent as possible.
Farewell my friend; you'll be missed.